Communicate to Connect Program
Do you want to:
influence and inspire others?

build your leadership presence?

increase your confidence?

foster rapport and credibility?

drive business, team and personal success?

make a positive and lasting impact?
Then my 

Communicate to Connect 

program is just for you! 
"If you can't communicate and talk to other people and get across your ideas, you're giving up your potential." 

– Warren Buffett
In the current climate, more than ever before, effective communication is a critical skill for leaders looking to make a positive contribution to their customers, team, peers, industry, community…or society at large.
Following my proven Connection Point Framework, the Communicate to Connect program takes a holistic approach to helping you become a more purposeful and effective communicator in all areas of your work.
Over the course of 13 sessions, you will learn the science behind effective communication; discover the art of each fundamental communication skill; and how to implement each skill into your day-to-day communication.
We'll cover:
The communication process
Self-awareness and discovery
Barriers to effective communication
Written communication skills
Verbal communication skills
Non-verbal communication skills
Establishing your leadership brand
Building your leadership presence
By the end of the program you will be equipped with the knowledge, skills, resources and confidence to Communicate to Connect, setting the stage for you to:
inform, inspire, influence and persuade your teams, customers, peers, industry, networks and community
fast-track your business, team and personal success
And realise your contribution – and potential – as a leader.
But don't take my word for it – here's what previous participants have said:
I'm armed with techniques I had no idea about that have helped me communicate more clearly, succinctly and confidently plus understand my style vs. others' and how to work best with both.
Rachael
You are enthusiastic, knowledgeable and easy to talk and communicate with and have provided structure and purpose to my communications.
Justin
You have provided me with many actionable strategies that have helped me build on my communication skills and overall confidence. This is something that not only I have noticed but also my colleagues. I had one colleague come up to me and say "whatever it is that you're working on with your communications coach has really helped you. I can really notice a difference" and then another separately say "that presentation you just gave was really inspiring and makes me excited to be working on this project". To know others have noticed is a fantastic testament to the course you've developed. Thanks for everything Cath! It's been fantastic. Highly recommend this course!
Ash
How is the

Communicate to Connect

program delivered?
Before each session: you will receive some prep work to complete. This may be background reading, a self-assessment, writing or an exploratory exercise. The prep work allows you to maximise your session time to further your understanding.
During each session: this is the time to deepen your knowledge and develop your skills for practical application. During the sessions, we'll discuss your key learnings and revelations from the previous week, before delving in to the next topic. You're encouraged to ask questions, brainstorm ideas, get instant feedback and steer the direction of your development.
With the exception of the Communication Style session, all sessions are one-hour and can be held at the Behind The Scenes office in Sydney's Northern Beaches; at your Sydney-based office or a suitable Sydney location; or online via Zoom, Skype, Google Hangouts or similar.
Post session: communication is a skill that takes practice. After each session, you'll leave with actionable steps to incorporate the knowledge, frameworks, tools and techniques into your day-to-day communication immediately. I'll be available 'behind the scenes' for you to refer to as needed.
Who is the

Communicate to Connect

program for?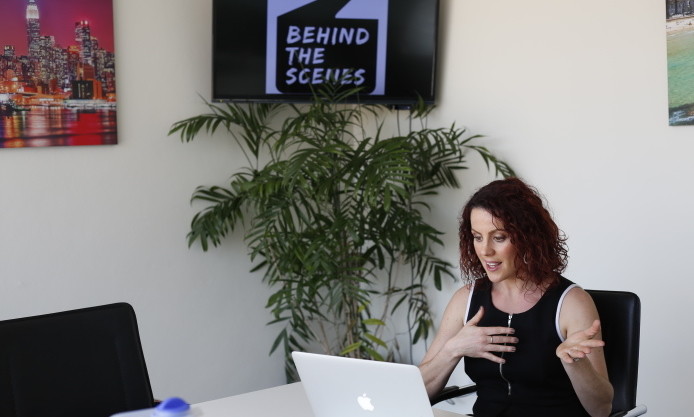 For entrepreneurs and business owners
learn how to promote and market your business
build your reputation as a leading expert in your field
challenge the status quo or disrupt the market
nurture a loyal following of team members, customers and advocates
increase sales and accelerate your growth!
For managers, team leaders and individual contributors
accelerate your career to the next level
demonstrate confidence
build credibility amongst peers and senior leaders
showcase your expertise
position yourself as the future of the business
inspire and motivate team members
be the difference you want to see!
For senior executives and HR leaders
lead by example
create a high-performing team
foster empathy and understanding
build a positive workplace culture
increase employee engagement
improve productivity 
increase results – financial and otherwise!
What's the investment?
One-to-one coaching: AU$3,495 (+ GST)
Online group coaching: AU$1,495 (+ GST)